Here's a scary thought.
It's just over 5 years since the release of WordPress 2.0.1 – holy moly 5 years!
For anyone interested or who's long enough in the tooth to have been using WordPress back then, here's a quick reminder of what WordPress 2.0.1 actually looked like.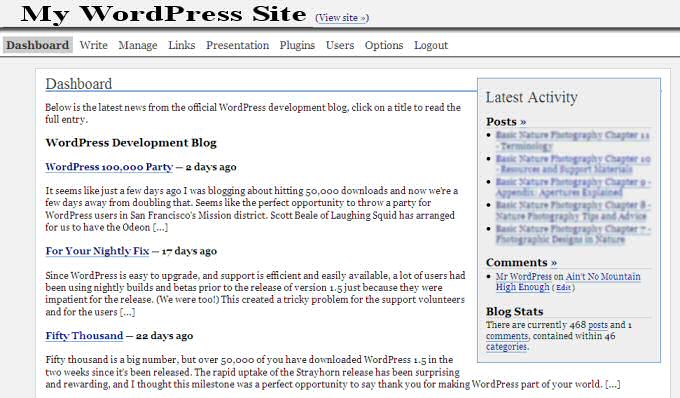 Quaint eh?
Sometimes it's easy to forget just how far WordPress has come in the past 5 years. I mean back in 2006, WordPress was an excellent blogging tool – but for me, the Joomla project which was also in it's infancy back then was superior for general website development.
Fast forward to 2011 and things are very very different. WordPress has evolved and grown exponentially in that time and for me it is now pound for pound the best publishing platform/CMS/framework – nothing beats it.
And in a way, this presents as many challenges for WordPress as it does opportunities. Sure there are still definitely shortcomings and weaknesses to WordPress as a pureplay CMS when you compare it against Joomla or Drupal. But the real challenge for WordPress in the next few years is in being able to address those shortcomings while still retaining the simplicity of the core publishing process as it works today. Simply put, users don't get a handle of any other CMS as quickly as they with WordPress. I've seen people struggle for weeks and weeks with Joomla and don't get me started on Drupal.
So what will WordPress look like 5 years from now? Will it even exist? Clearly WordPress will continue to grow and innovate quickly over the next 5 years – assuming it's not gobbled up by some corporate behemoth. But in what direction? Does it try to become all things to all mean and risk losing the aforementioned simplicity or does it retain it's historical roots as a really strong platform for running blogs on?
It's always difficult to project even 12 months forward in webville – never mind 5 years. But it's an interesting exercise. While WordPress has changed significantly in the past 5 years – you can still see that it HAS retained it's simplicity in that time while incorporating more sophisticated features. My view is that this will continue – and needs to for WordPress to retain it's popularity.
The mobile UI will definitely become increasingly important. Social media features and integration with popular social networks will become standard. I think the process of creating content needs to be further simplified and this is probably where the greatest innovation will happen with the WordPress UI itself. I can foresee much more dynamic and rick user experience when it comes to physically typing up content. I can foresee better, faster image editing abilities. I can foresee the development of really clever content definition and creation interfaces that build of the really good work being done in the commercial side of the business right now by the likes of Crowd Favourite.
Here's hoping the next 5 are just as fun as these past 5!